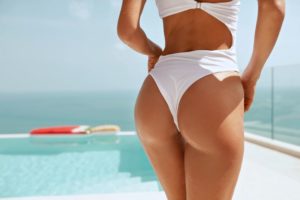 Whether you are lounging in a bikini on the beach or are slipping into a pair of fitted jeans, the shape of your butt can have a significant impact on how you look and feel. Sure, things like a balanced diet and toning exercises can help to an extent, but some people go a step further by enlisting the services of a plastic surgeon. What are some benefits of buttocks implants? This blog post explains what you can look forward to.
Remarkable Results
Exercise and diet are wonderful for health, and they can enhance your butt — but they have their limits. Butt implants can help you achieve a look that no amount of squats or lunges could ever allow you to attain.
Long-Term Enhancement
For many patients, their buttock implants provide them with years of enhanced confidence. In fact, the results of your surgery could endure for 10 years or longer!
Look Better in Your Clothes
Some people have very little shape to their butt, so certain clothing items may not fit correctly. Butt implants can provide more roundness back there, allowing you to fill out a pair of curvy jeans, look amazing in a body-con dress, or feel like a supermodel when you stroll along the beach in your swimsuit.
Customize Your Treatment
Your plastic surgeon wants you to be happy with the results of your surgery, so they will help you choose the best size of implant for both your body and your goals. You might also choose to combine your implant procedure with other aesthetic procedures so you can optimize your shape as efficiently as possible.
Great for People Who Can't Get a BBL
There are a couple of different ways to enhance your butt. A Brazilian butt lift (BBL) is a fat transfer surgery, where a doctor uses fat from other parts of your body to round out your bottom. However, if you do not have enough fat for a BBL, silicon butt implants might still work for you.
Are Butt Implants Right for You?
Buttock implants are great for many people who want to enhance their shape. Your plastic surgeon can have a frank discussion with you about the pros and cons of the procedure so you can make a well-informed decision about whether to move forward with it.
Meet the Practice
Dr. Irvin M. Wiesman is an experienced plastic surgeon in the Chicago area. He proudly provides BBLs, butt implants, and many other procedures that are designed to help patients love their bodies. If you have questions about a particular service, he and our team would be happy to speak with you. Get in touch with our office at 312-981-1290.