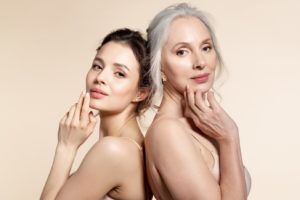 Are you looking to turn back the clock on your appearance? Injectables offer a minimally invasive and effective way to reduce wrinkles and make you look years younger. Two popular injectable options are Juvederm and BOTOX® in Chicago. How do these treatments compare, and which one might be a better fit for you? Read on below to discover the answers.
What Are Juvederm and BOTOX®?
Many people think that Juvederm in Chicago and BOTOX® are the same thing. That is not true. BOTOX® treats wrinkles by limiting the movement of facial muscles. This prevents and reduces movement-based wrinkles, such as lines between the eyebrows, crow's feet, and forehead lines.
Juvederm, on the other hand, does not limit muscle movements. Rather, it is one of several available facial fillers in Chicago. A facial filler adds volume beneath the skin, thereby smoothing out wrinkles and adding plumpness and volume to targeted areas. Juvederm is often used to smooth nasolabial folds, make the cheeks appear fuller, and add plumpness to the lips.
The Treatment Process
The treatment processes for BOTOX® and Juvederm are similar. After a consultation, your provider will determine how many injections you need and where the injections should be placed. You may feel a pinch as your treatment is administered. Within a few days after your appointment, you should begin to notice a smoother, more youthful facial appearance.
With Juvederm, you'll have to take a few extra precautions after you receive injections. For example, you should avoid strenuous exercise, sun exposure, and alcohol for at least 24 hours. BOTOX® does not come with such restrictions, but both treatments have the potential to cause minor bruising and swelling.
How Long Do the Results Last?
The results from BOTOX® injections usually last 3 – 6 months before touch-ups are necessary. Juvederm results tend to last longer, with patients often able to go a year or longer between injections.
How Much Do They Cost?
The cost of these treatments depends on who administers them and the amount of product that is necessary to achieve the desired results. During your consultation, your provider can help you crunch the numbers. The average cost of Juvederm is higher than that of BOTOX®. However, since Juvederm lasts longer, it is safe to say that both products are a good value.
Which Should You Choose?
Whether you should choose Juvederm or BOTOX® depends primarily on your specific skin concerns. Your cosmetic surgeon or injectable expert can help you determine which treatment would be better for your unique circumstances. Some patients are able to benefit from both Juvederm and BOTOX® at the same time. A few strategic injections can add volume where it is needed, reduce movement-based wrinkles, and produce stunning results.
Neither BOTOX® nor Juvederm is "better" than the other. Both treatments have the potential to help you look and feel your best!
Meet the Practice
Under the leadership of Dr. Irvin Wiesman, Wiesman Cosmetic Surgery offers a range of treatments that are designed to help patients achieve their aesthetic potential. Ashley Louise, the talented physician assistant in our practice, handles most injectable treatments, such as BOTOX® and Juvederm. To learn more about our team and how we may be able to serve you, contact us at 312-981-1290.