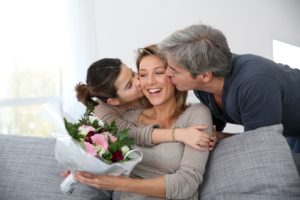 Do you know a mom who is always making sacrifices for others and working relentlessly to care for her family? You might be wondering what you can give her to let her know that you care. Classic gifts, such as spa days and free babysitting, are always appreciated. But what if you want to give something extra special? Consider gifting a mommy makeover in Chicago.
What Is a Mommy Makeover?
"Mommy makeover" is the term used to refer to cosmetic surgery services that can help a mom reclaim her pre-baby body. The makeover usually includes multiple procedures, which can enhance the appearance of the breasts, tummy, thighs, and vagina.
Why Is a Mommy Makeover a Great Gift?
A survey of over 84,000 moms found that women often experience declining self-esteem during pregnancy, and even three years after giving birth, they still may not feel like themselves. While part of this sad state of affairs is related to the normal challenges of motherhood, part of it is also often due to the changes in a woman's body that occur as the result of pregnancy. Issues like changes in breast size and loose skin on the tummy and thighs may make a woman feel less than her best.
If a mom in your life is going through such issues, emotional support is important. If it is within your means, though, a mommy makeover may be just the way to address the root cause of her distress.
Who Is a Candidate for a Mommy Makeover?
Of course, not every mom is a candidate for a mommy makeover. The women who benefit the most from this service include those who:
Do not have plans to get pregnant again.
Are healthy enough to undergo surgery.
Are close to their ideal body weight.
Have realistic expectations about what cosmetic surgery can accomplish.
If you aren't sure if the woman to whom you would like to gift a mommy makeover is a good candidate, ask her to attend a consultation with a qualified plastic surgeon. Once you know whether she is a candidate and which procedures the doctor recommends, you can prepare your budget to move forward with the gift.
Make It Stress-Free
The gift of a mommy makeover isn't complete without the appropriate support. For example, she might hesitate to accept it if she is worried about who will care for her kids while she is recovering from surgery. Working with her to come up with a plan to address such issues will give her greater peace of mind as she embarks on her journey to regain a body that she loves.
Are you looking for gift ideas for a special mom in your life? A mommy makeover may be the perfect way to show her how much you love her!
Meet the Plastic Surgeon
Dr. Irvin M. Wiesman is a board-certified plastic surgeon in Chicago. He offers a broad range of services, including those that are often included in a mommy makeover. To learn more about Dr. Irvin and how he may help you give the gift of renewed confidence to a mother in your life, contact our office at 312-981-1290.