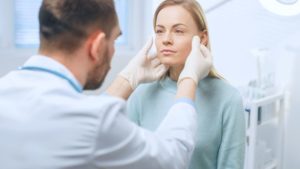 If you are in your 40s or older, you may have noticed some significant signs of aging on your face and neck. Sagging skin and deep creases are normal and nothing to be ashamed of; these issues happen to virtually everyone. However, if you would prefer to turn back the clock and look as young as you feel, you might want to consider getting a facelift. Here are some benefits that you are likely to experience as a result of the procedure:
Enhanced Confidence
As the old adage says, when you look good, you feel good. Loving what you see in the mirror may boost your confidence in social situations and support a healthy, positive view of yourself. A facelift can be one of the most powerful ways to enhance the appearance of your face and neck.
Dramatic (and Natural-Looking) Results
High-quality skincare products and noninvasive professional treatments play a valuable role in helping people look and feel young. However, they are limited in what they can accomplish. Some issues, such as significant skin sagging and deep wrinkles, are best corrected by surgery. A facelift can do what more conservative options simply cannot.
However, a facelift will not make you look overdone or "plastic." It simply turns back the clock on aging so you can hold onto your youthful glow for as long as possible. In all likelihood, the scars from your procedure will be so well-hidden that no one will ever notice them.
Long-Lasting Results
Some cosmetic treatments require frequent maintenance. A facelift is different. While it will not prevent gravity and the natural aging process from causing new wrinkles, it can provide you with years of results. In fact, it may be up to 10 years or longer before the results start to wear off.
Minimal Downtime
A facelift is a surgery, but that doesn't mean it is going to put you out of commission for a long time. The incisions with a facelift are small, and your surgeon will be careful to be as conservative as possible during your procedure. Most people are able to return to work within about two weeks of their surgery, with full recovery taking 4 – 6 weeks or so.
Tighter Neck and Jowls
Did you know that a facelift isn't just for the face? It can tighten up sagging jowls and improve the appearance of your neck as well. Be sure to mention any problem areas to your surgeon during your consultation so they can focus on helping you achieve your desired results.
A facelift can be a powerful tool for enhancing your appearance and boosting your confidence! This procedure is definitely worth your consideration.
Meet the Practice
Dr. Irvin M. Wiesman is a board-certified plastic surgeon who takes pride in helping people throughout the Chicago area to look and feel their best. If you have questions about facelifts or other aesthetic procedures, he and our team would be happy to speak with you. Contact our office at 312-981-1290.