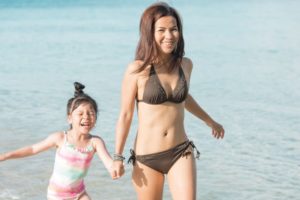 If you do not plan to have any more children, you might be thinking about undergoing a mommy makeover. This cosmetic surgery service can help you to regain your pre-baby body. Still, you might hesitate if you live a busy lifestyle. You may wonder what you can expect while recovering from a mommy makeover and how soon you will be able to get back to your normal routine. This blog post provides useful information.
Recovery Time Can Vary
It is important to keep in mind that recovery time can vary from patient to patient. It depends on a few factors, including:
The specific procedures involved in your mommy makeover. Some surgeries come with a longer recovery time than others. For example, you might be able to go back to work the day after liposuction, but you may have to wait a couple of weeks after a tummy tuck.
Your unique body. Depending on your age and overall health, your body might be faster or slower to bounce back after extensive cosmetic surgery. It is important to be patient with yourself and not resume your normal activities before you are physically ready.
Many patients are feeling pretty good within 1 – 4 weeks after their mommy makeover, but you may be required to abstain from lifting anything heavy for at least six weeks.
Tips for a Smooth Recovery
Here are some important points to keep in mind that will facilitate a smooth recovery after your procedure:
Follow your doctor's advice. Your doctor will give you detailed instructions for your post-op period. Follow them as closely as possible, even if some of them seem inconvenient. For example, you will need to remain bent slightly at the waist for a period of time after a tummy tuck.
Prepare ahead of time. Create a cozy space in your home where you will have entertainment, snacks, and other necessities within easy reach while you are healing. You should also arrange for your partner, kids, or someone else to temporarily take over some of your household duties.
Make yourself comfortable. You may be given a prescription for painkillers; take them as recommended by your doctor. If you still need pain medication after your prescription runs out, try over-the-counter-options.
Monitor your recovery. Keep an eye on your incisions, and be aware of how you are feeling. Do not hesitate to reach out to your surgeon if you have questions or concerns about anything you observe.
A mommy makeover can change your life for the better, but before you get to enjoy its benefits, you will need to go through a recovery period. Hopefully, this article has helped you to have realistic expectations about the road ahead.
Meet the Practice
Under the leadership of board-certified plastic surgeon Dr. Irvin M. Wiesman, our practice offers a wide range of cosmetic services, including comprehensive mommy makeovers. If you are looking to enhance your body, we would be pleased to consult with you. Contact our Chicago office at 312-981-1290.